Yarn Pumpkins are perfect to take you from Halloween through Thanksgiving. They're simple to make and so cute.
Updated 10/2020
Why make yarn pumpkins?
I decided to try making yarn pumpkins because I need more fall decorations.
Every year after I take down my Halloween decorations I am sad because my house is bare. I am tempted to start putting up Christmas because I don't have a lot of fall decorations.
I try to wait until at least Thanksgiving to put up my Christmas tree. That means I needed more fall decor to fill in the space between Halloween and Christmas.
I drive around and see all these cute decorated fall porches and yards. It makes me wish I had more stuff to decorate with.
This year I am determined to make decor pieces that I can use from Halloween through Thanksgiving.
  It seems like once Halloween is over stores have cleared out their fall decorations and Christmas is in full swing.
I decided this year if I see something cute for fall I will buy it when I see it and not wait!
I think pumpkins are a simple and perfect way to decorate for fall. They come is so many shapes, colors, and sizes.
I thought it would be fun to make some kind of pumpkin using yarn. I decided to make pumpkins using yarn and styrofoam balls. I'm so happy with how they turned out!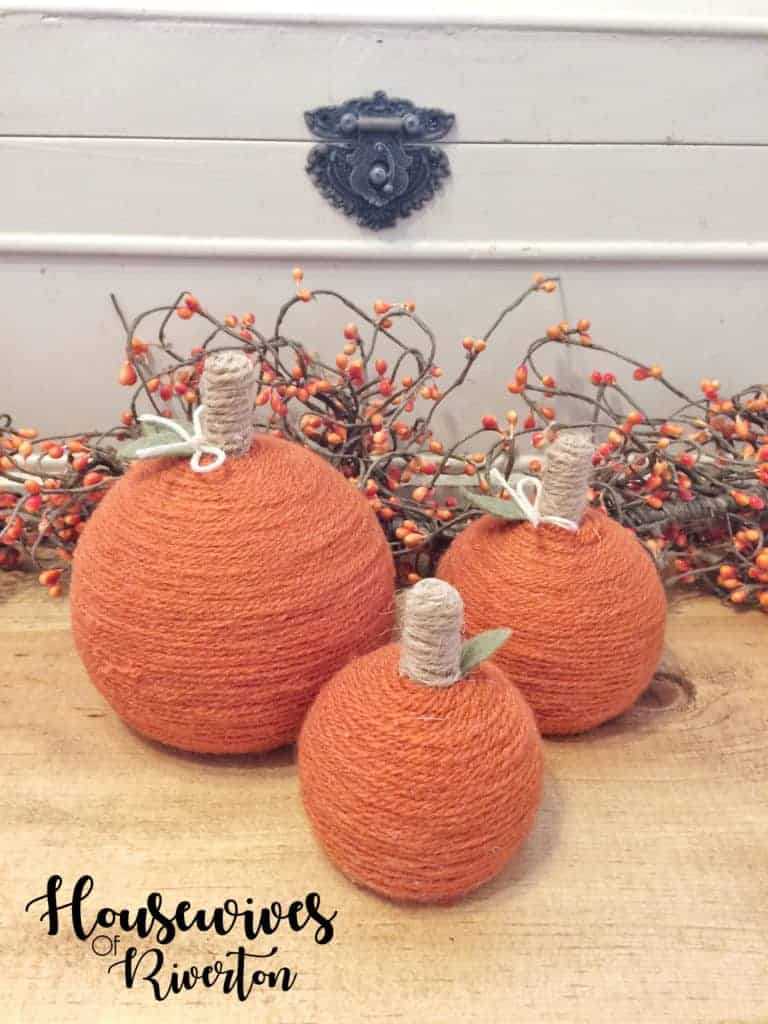 How to make yarn pumpkins.
To make yarn pumpkins you're going to need the following supplies:
Styrofoam Balls
(you can use the size of your choice)
orange yarn
hot glue gun
wood dowel
green felt
scissors
twine
Let's make fall pumpkins!
Grab styrofoam balls the size you want your yarn pumpkins to be. I found a bag of styrofoam balls at Michael's that had different sizes in it.
You can also find them individually at most craft stores so pick whatever sizes you want.
I trimmed the bottom off each styrofoam ball using a butter knife. If you use something sharper be sure to secure the ball so it doesn't roll away and you cut yourself.
Cut the dowel just longer than the length you want your stem to be. If you don't have a saw the home improvement stores will do it for you.
Stick the dowel into the center of your pumpkin and then hot glue the twine around it. You can also paint your dowel if you don't want to use twine.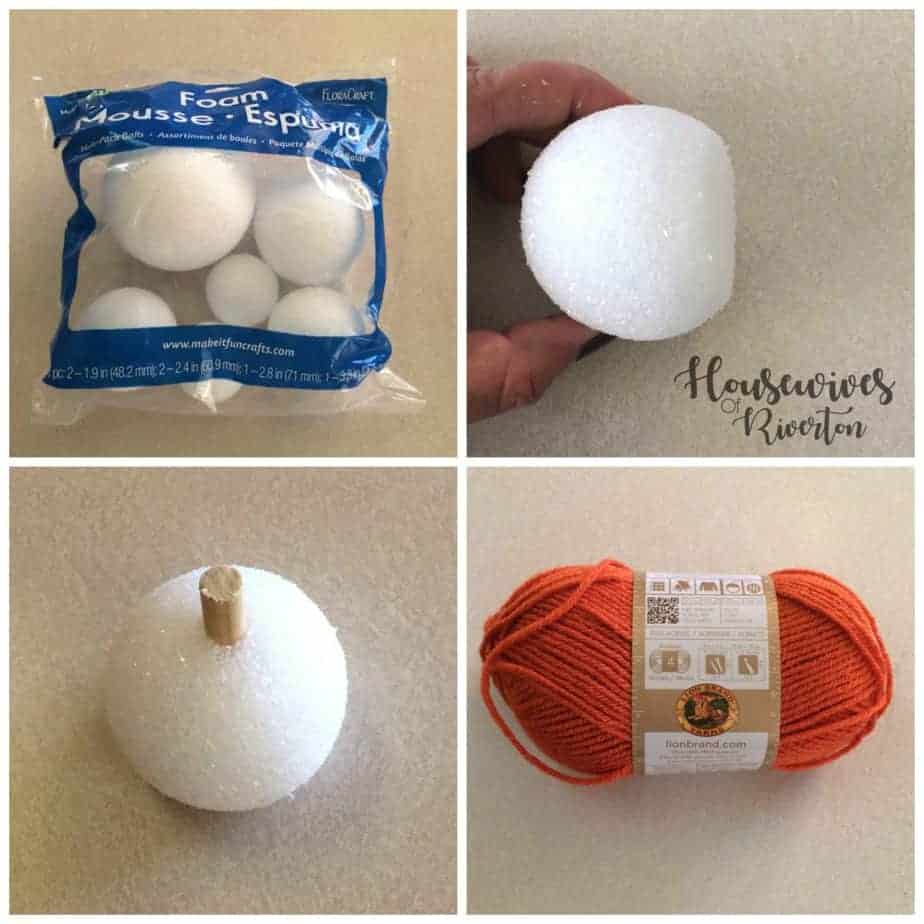 To attach the yarn to your styrofoam start at the top of the pumpkin and slowly wrap the yarn using hot glue to secure.
Add hot glue in small sections so it doesn't dry before you get to it. This will cause your pumpkin to look lumpy or the glue will show.
Continue to wrap the yarn all the way around the styrofoam ball until you get to the end.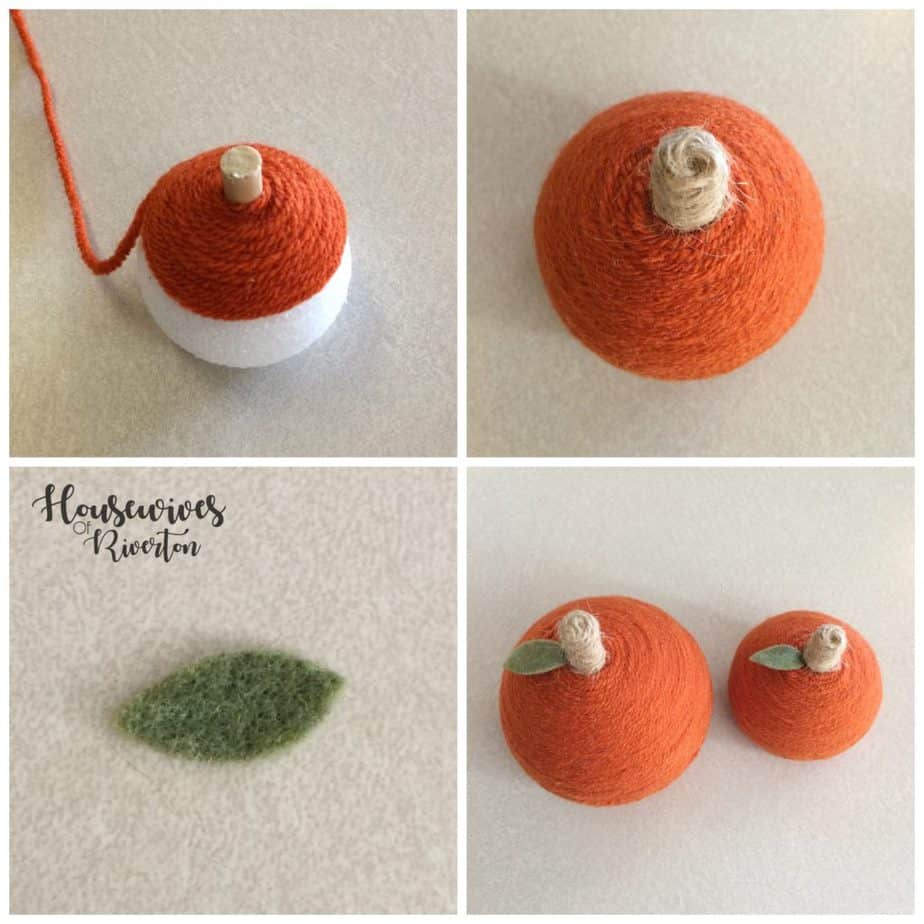 To take the cuteness up a notch I decided to add felt leaves and a little yarn bow. I just freehand cut a leaf shape using scissors.
I added two leaves and a bow to one yarn pumpkin. One leaf and yarn bow to another pumpkin and just a leaf to the smallest pumpkin.
You don't need a lot of green felt so I would recommend buying a sheet at your craft store.
To attach the leaf I added a little hot glue and used the tip of my scissors to tuck it into the top of the yarn.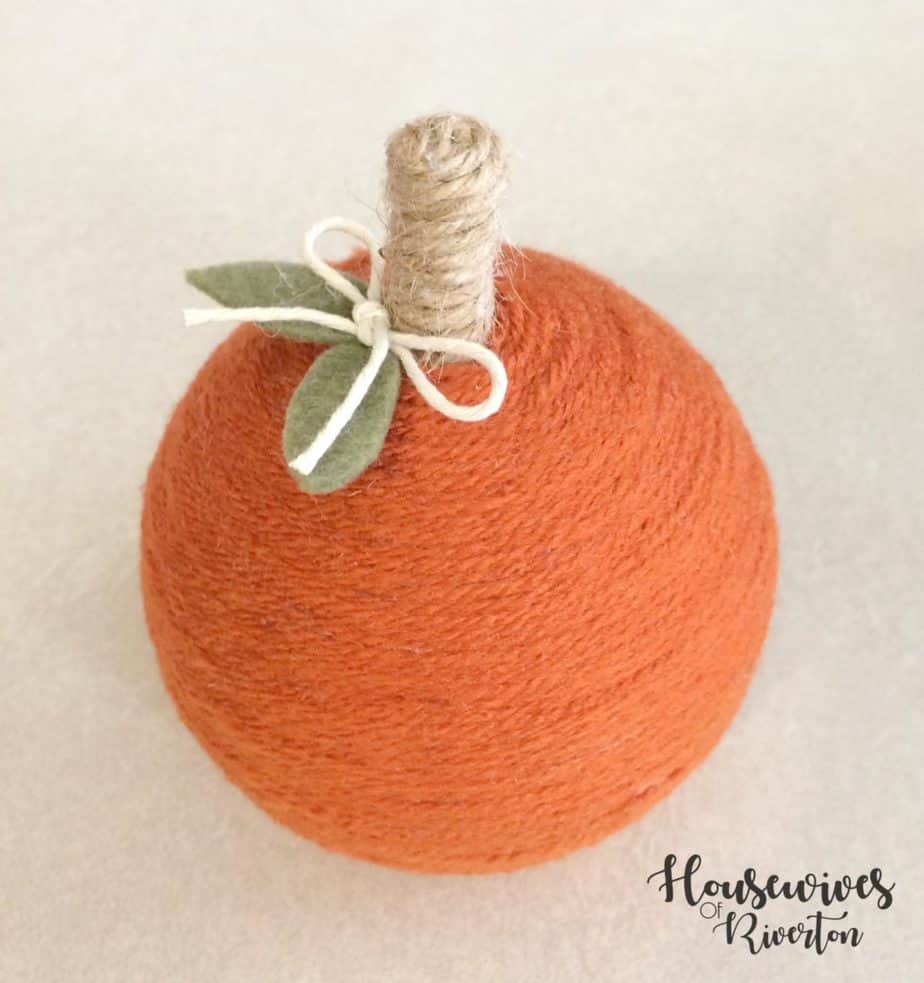 What do you think of our yarn pumpkins?
I love these little yarn pumpkin. With all the new textured yarns out there I am excited to make more. Wouldn't these be so cute with the chunky yarns they have?
We hope you enjoyed this tutorial and we'd love to hear if you make your own. Tag us in your instagram posts @housewivesofriverton or use #housewivesofriverton and we'll share your project in our stories.
Yarn Pumpkins Tutorial
These cute yarn pumpkins are so easy to make and are the perfect decor to take you from Halloween all the way through Thanksgiving.
Materials
Yarn
Twine
Dowel
Styrofoam Balls
Instructions
Gather supplies.
Cut the bottom of styrofoam balls so they will stand and not roll.
Push your cut dowel into the top of your styrofoam ball.
Wrap twine around the dowel, start at the top using hot glue to hold it into place.
With small sections of hot glue starting at the base of the stem wrap yarn all the way around the styrofoam ball. Hot glue will dry quickly and make your yarn look lumpy and ununiform if you put too much on at once. Take your time and wrap it around in small sections and you'll be happy with the final result.
Freehand cut leaves. I used a dab of hot glue and used the tip of my scissors to tuck the end of the leaves into the yarn.
(optional) I added little white yarn bows to the leaves.
Display and enjoy.
If you like these pumpkins check out some of our other pumpkin tutorials!