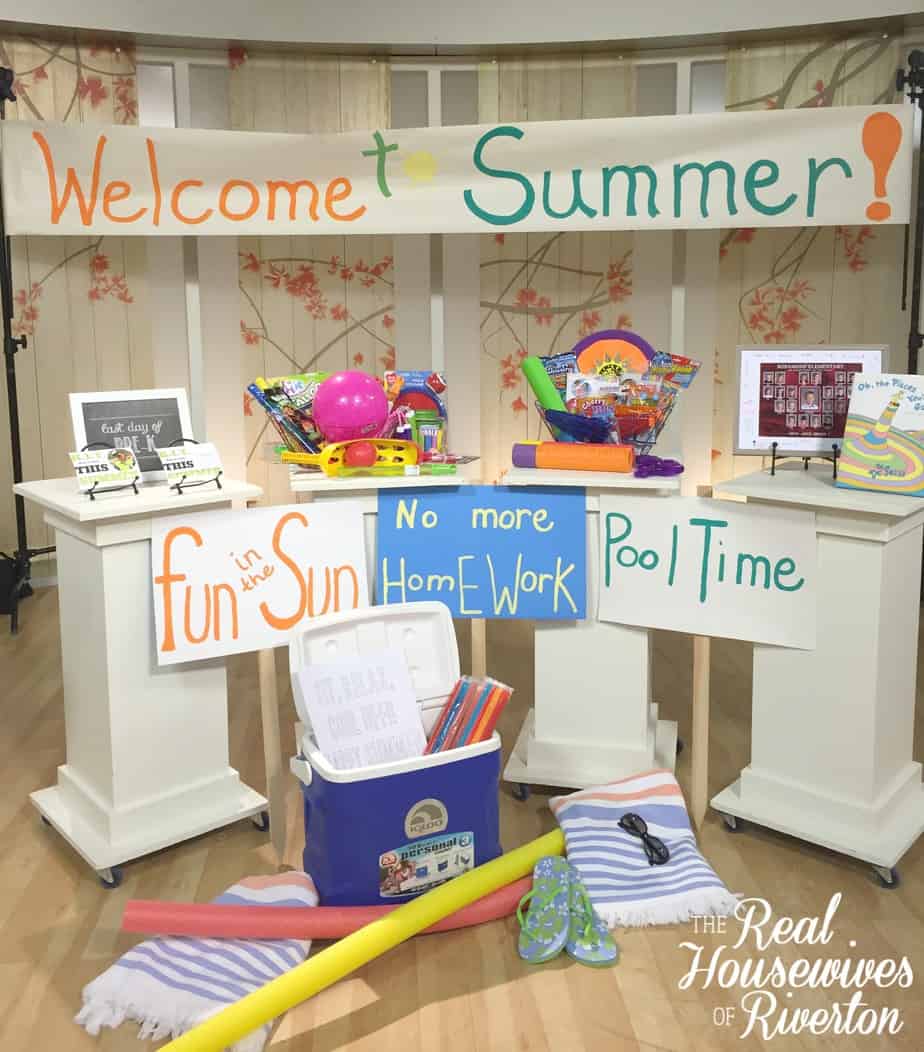 Tomorrow is the last day of school for many kids here in Utah.  Last week I had the opportunity to hang out with Brooke Walker on the Studio 5 set and share some fun ways to make the last day of school a celebration.  These are fun, simple, easy things that you can do without breaking the bank or spending forever putting together.

A quick search on Pinterest can quickly bring up a large variety of ideas for last day of school celebrations and traditions.  I pulled some of my favorites together to feature because they were just too fun to pass up.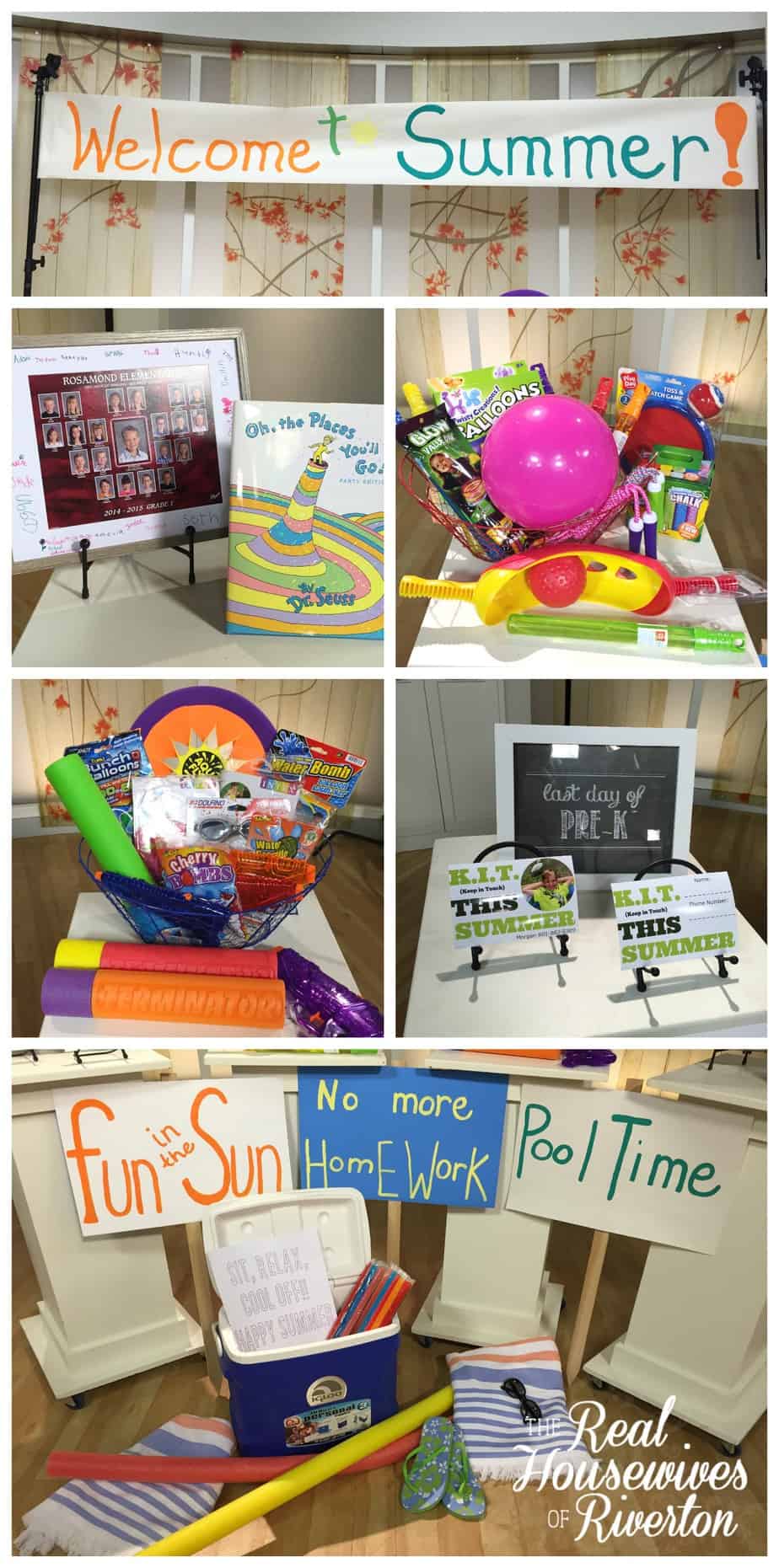 First things first I absolutely LOVE the idea of having a "Welcome to Summer" banner ready for the kids to run through when they get home on the last day of school.  Apparently this is a long standing tradition for a lot of people that I had just never heard of before!  I wish I had known about it because it would have been at the top of my list of fun things to do every single year.  My banner was super simple to create.  It is about 12 feet long (I want a few kids to be able to run through at once) and is just a roll of art paper from IKEA.  Using regular craft paints and a 1″ sponge brush I freehand painted "welcome to summer" and let it dry.  Once it was dry it was easy to roll up and stick aside to wait for the last day of school.  Using two wooden stakes taped to each end of the sign holds it up, the sign will be across our yard ready to welcome the kids all home.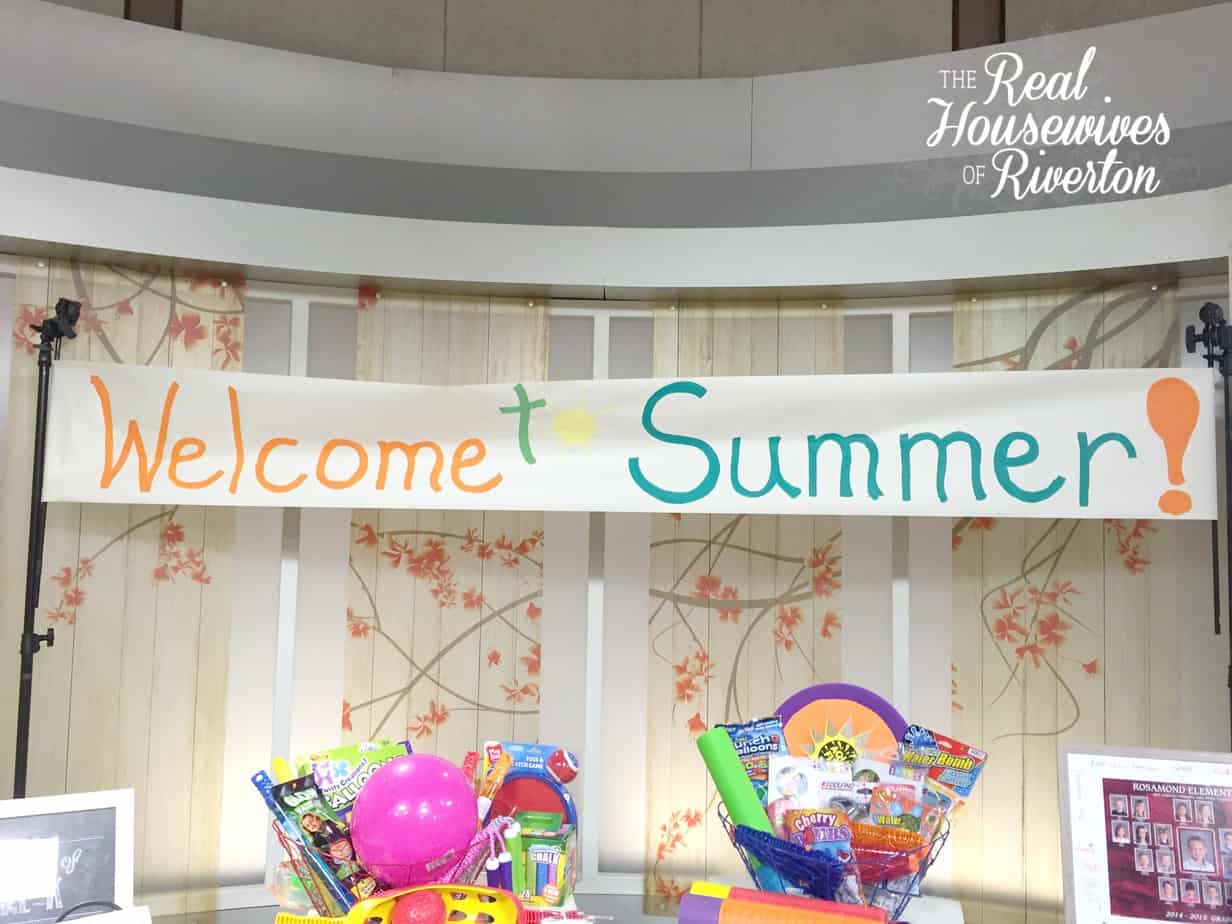 In addition to the Welcome to Summer banner I asked my children what some of the things they were looking forward to this summer were.  I got answers like "pool time", " no more homework", "fun in the sun" and many more.  I've put all the things they're excited about on 1/2 sheets of poster board and attached them to simple wooden stakes.  My children walk to/from school so I'm taking these signs and lining their walkway home.  Once they hit our street there will be signs placed along the side of the sidewalk that will lead them to the big Welcome to Summer banner in our front yard!  I can't wait.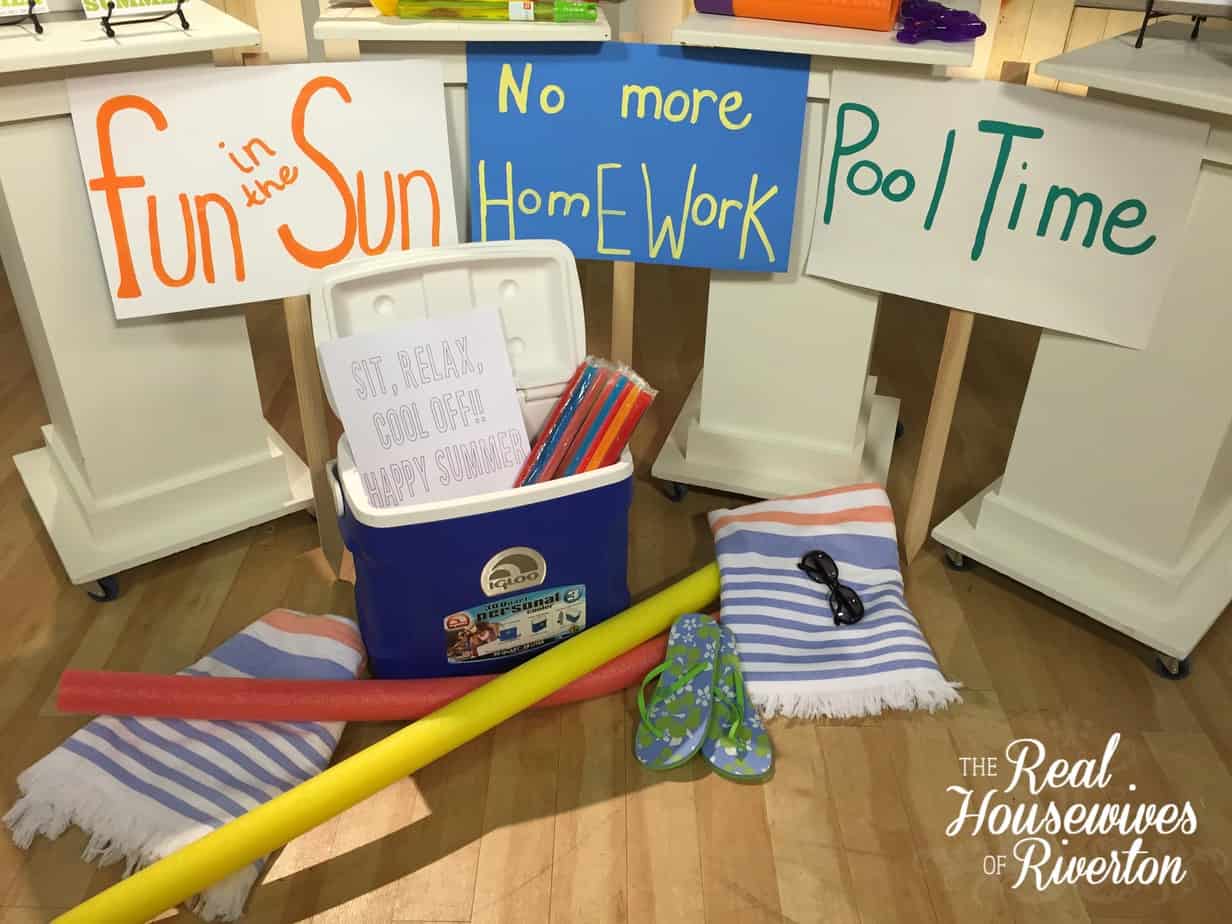 Also seen in the above photo is a cute idea involving a cooler full of popsicles sitting on the porch for the kids to enjoy with their friends.  I made a sign using my Cricut that reads "sit, relax, cool off!!  HAPPY SUMMER.  Living quite close to the school we have a lot of neighbor kids who walk home, I know my kids will love sharing a last day of school/hello summer treat with them.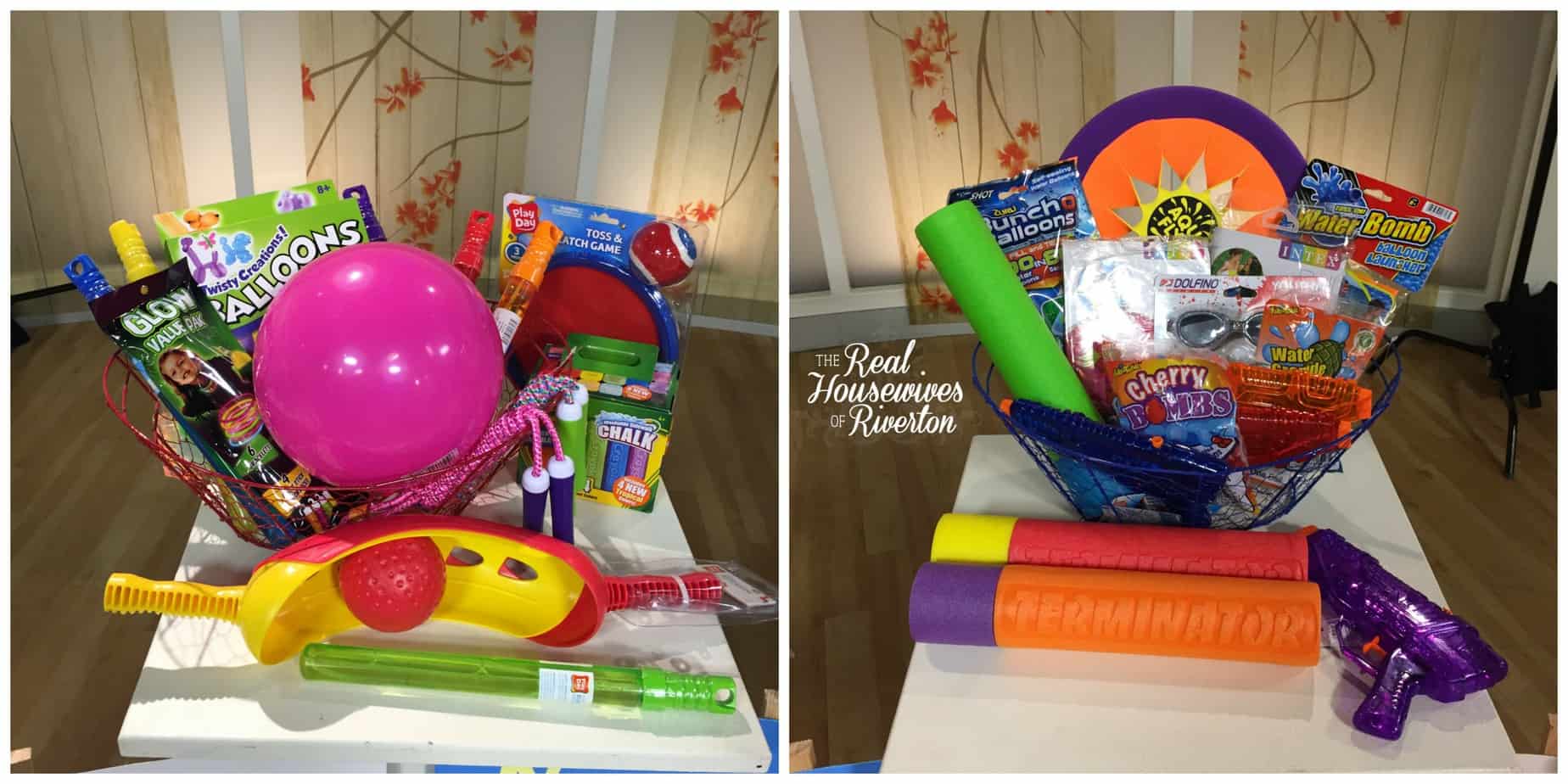 I feel pretty confidant that I'm not alone in the disposable toy department.  It seems like so many of the outdoor toys/games my children absolutely love don't last from one summer to the next.  Since I knew I'd be buying these things throughout the summer anyway I thought it would be so fun to have them together in a basket to welcome the kids home from school on the last day.  I feel like these baskets scream "this summer is going to be FUN!" which is what I want my kids to be ready for.  I created two different baskets, one full of water fun toys and one full of non water toys.  These don't have to be expensive toys, a quick trip to the dollar store, target dollar spot, and/or walmart will put you well on your way.
Here are what I filled my baskets up with.
Water Basket:
water balloons
water squirters
water guns
water frizbee
water balloon launcher
goggles
beach balls
Non Water Basket:
bubbles
sidewalk chalk
jump ropes
glow sticks
balloon animal kit
2 different toss and catch games
I would add a couple hula hoops too!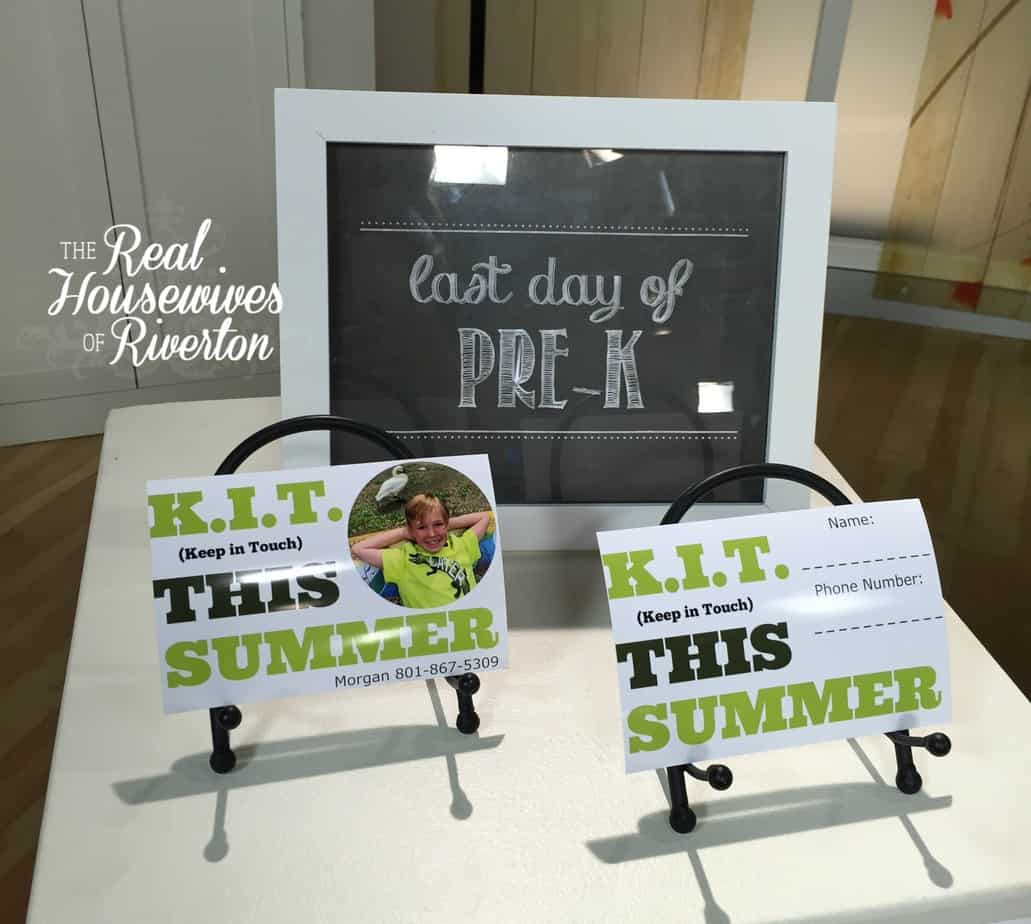 One tradition I've been pretty good at in all my school aged children parenting years is taking a first and last day of school picture each year.  I really do believe that while as adults our years may go from January to December for children the year is based on the first and last days of school and I'm always amazed at how much my children change each year.  The last few years I've loved adding a quick printable to the photo, the one pictured above is the one we used this year and can be found here (thank you yellowblissroad.com) – there are so many great ones on pinterest that you're sure to find something you just love (no sense recreating the wheel right?!)
Another idea I love is the K.I.T. (keep in touch) card.  I found a darling design at Eighteen25.com that my daughter has already told me she's using (you can find it here) and I thought it would be fun to come up with two varieties in my son's favorite colors.  One is like the eighteen25.com design where the spaces are left blank for friends to add their information to or for you to add your info to and pass out.  The other is like a child's business card, it's got his photo on it so no one will forget which friend it is and our phone number so he can just pass them out to his friends.  So fun right?  These are perfect for the pre-cell phone aged child so they can still stay in touch and see their friends over the summer.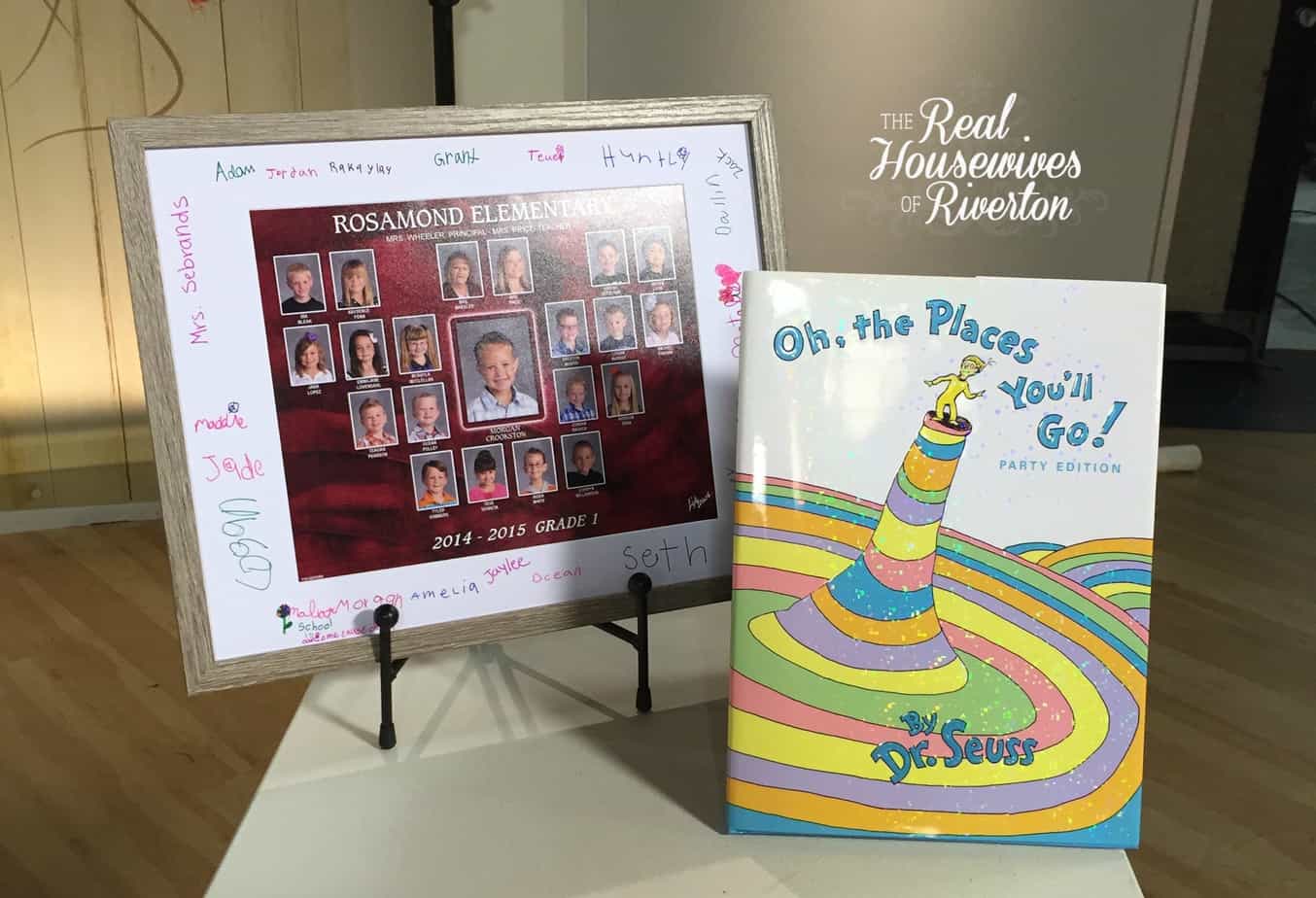 The last two ideas I'm sharing are more keepsakes/traditions than celebrations.  The first is something that would be fun to start at kindergarten age and do through at least elementary school (after that yearbooks become a thing and kids are maybe a little more selective in their friends…) send a photo mat with your child to school and have each of their friends sign the mat and then add their class photo to the frame.  My sons think this is the neatest thing and I loved the story Brooke shared during our segment, she said she's from a small town and many of the people she went to school with she's still close friends with today, how fun would it be to have something like this, a physical reminder of the years of friendship in your keepsake box?
The last idea is my very favorite and I'm heartbroken it's not something I knew about 12 years ago when my oldest started kindergarten.  Becky Higgins recently was helping a woman get her scrapbooking/keepsake life in order and shared a few photos of a project the woman started with each of her children (her name is Jennifer and she gave us permission to share her story).  She purchased a copy of Oh the Places You'll Go for each of her children and through their school years had each of their teachers write a note and sign the book.  Having a child who will be a senior next year I wish I had the ability to rush back to each teacher he's ever had and create this keepsake for him.  I think it's so awesome and I will be doing this for the children I can still get to each teacher for.


So there you have it!  A whole collection of last day of school celebrations and traditions you can get started doing right now.  I'd love to hear what your favorite ways to celebrate the start of summer vacation are and please if there is a tradition you love that I should be starting share that as well.
Have an amazing day!