This post may contain affiliate links. If you purchase something through any link, we may receive a small commission at no extra charge to you. Supplies used may be given to us free of charge, all projects and opinions are my own.
Does your family do anything fun for St. Patrick's Day? Holidays like St. Patrick's Day are a great way to create traditions. Over the years we've come up with a lot of fun ideas to celebrate the day of green and luck.
Today I'm sharing a collection of fun St. Patrick's Day games that are perfect for a family game night. They'd also be perfect for a classroom St. Patrick's Day party.
Looking for some green food to add to your March 17th celebrations check out the best St. Patrick's Day foods.
How to Make St. Paddy's Day Fun
It doesn't take a lot to make holidays special. My family has always done the minimum for St. Patrick's Day. The kids have been surprised by green milk, finding a four-leaf clover hidden in their lunch box, a box of Lucky Charms for breakfast, and of course gold chocolate coins.
They've made their own Leprechaun traps which have been so fun to watch their creativity with those. While they've never caught a Leprechaun but they're always rewarded with chocolate gold coins. Maybe the next leprechaun won't be as cautious and they'll finally see one!
What it comes down to is – don't overthink it. You don't have to spend a lot of time or go all out for it to be special for the kids. Heck, you could start the day by playing some Irish music for them to wake up to, music is a fun way to let your family know something is different about the day.
Is St. Patrick's Day Celebrated in Ireland?
This question seems to come up every year. Here in the US, we love St. Patrick's Day but I've heard it's not necessarily as big of a day in Ireland. I've never been to Ireland so what I've learned from my research is that St. Patrick's Day is really celebrated by people who left Ireland but want to continue to celebrate their Irish roots. That may be part of the reason it's so big in the US because so many Irish people emigrated here.
It does look like there are parades and other fun St. Patrick's Day celebrations you can attend in Ireland so I would say yes it is celebrated in Ireland.
10+ Fun St. Patrick's Day Party Games
Whether you're throwing an all-out St. Patrick's Day party or are just looking for something to do with your family these fun St. Patrick's Day activities are perfect for the whole family.
Free Printable St. Patrick's Day Games
Scattergories is a great game for older kids. I'm planning on playing this one at the dinner table.
St. Patrick's Day Green Scattegories From The Crafting Chicks
Bingo is ALWAYS a favorite party activity and this one is sure to be fun. Grab a bag of skittles for markers and you're ready to go with this free printable.
St. Patrick's Day Bingo from Crazy Little Projects – If you don't want to print out your own St. Patrick's Day bingo game you can purchase one here.
I don't know why dice games are so fun but they are. This Roll-A-Leprechaun game is perfect for your party and anyone can play! All you need is a piece of paper and a couple of dice.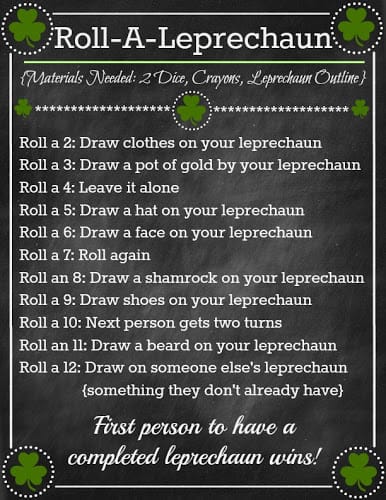 Roll-A-Leprechaun from Or So She Says… Ask party helpers to bring dice for this game or grab some spares to have on hand.
I am a sucker for a word search. These are great for anyone but can also easily be turned into a game by setting a time limit and seeing who can find the most words in a certain amount of time.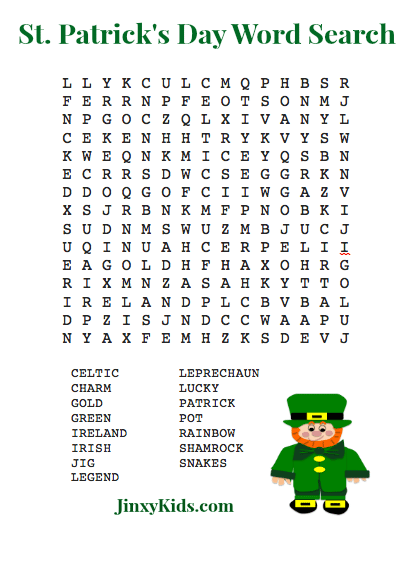 St. Patrick's Day Word Search from Jinky Kids – if you don't have a printer there are lots of options to purchase already-made word searches.
I think everyone can agree that Pin the Tail on the Donkey is possibly the most timeless party game out there. This fun twist of Pin the 4-Leaf Clover on the Leprechaun is perfect for St. Patrick's Day parties.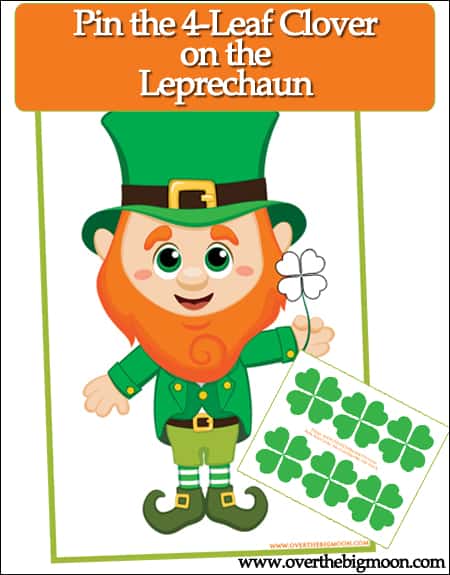 Pin the Four Leaf Clover on the Leprechaun from Over The Big Moon
This St. Patrick's Day I Spy game is so fun. It's really easy for kids of all ages. Add an element of fun by setting a timer!
St. Patrick's Day I Spy LilLuna.com
Minute to Win It Games
If you're looking for games to get people moving that will bring lots of laughs you need to try Minute to Win it Games. They're great for all ages, can be played in teams, and usually require very few supplies.
Rainbow Relay is a fun game to play that doesn't require a lot of space for a team to play. You just need a couple of plates, rainbow-colored candies, a straw for each player, and cups to drop them in.
Rainbow Relay from Creating Readers and Writers
A Shamrock Hunt is really simple and can be played in a few ways. Hide four leaf clovers like you would for an Easter egg hunt and set a time limit for kids to find as many as they can or you could add numbers or letters to them and make the players find them in order.
Shamrock Hunt from Little Family Fun. You can make your own shamrocks, likewise, you could find some at dollar stores or on Amazon.
This Coin Toss game is so fun. Again, set your timer and let the players go. You could either have two teams play against each other or have the first team play and then the next team can have their turn. To make this a team game have teammates take turns tossing the coins.
St. Patrick's Day Coin Toss from Moms and Munchkins. Grab fake coins or rob your penny jar!
Shake your Shamrocks. This game always brings laughs! Save your empty tissue box and grab some golf or ping pong balls and get those hips moving, kids especially love when adults join in this game!
Shake your Shamrock Minute to Win It game – PlayPartyPlan.com
St. Patrick's Day Scavenger Hunt
Scavenger hunts are always lots of fun. The only thing you need is a little imagination and of course a pot of gold at the end of your hunt.
A scavenger hunt can include a list of items that need to be found around the room but it can also include clues that need to be solved to take them to the next clue.
This is a great Scavenger Hunt with the clues already set up for you.
St. Patrick's Day Scavenger Hunt – thebestideasforkids.com
Here's another hunt with clues laid out, additionally it includes some blank cards you can customize.
Customizable St. Patrick's Day Scavenger Hunt – TheHousewifeModern.com
This Rainbow Name hunt is a great activity for young kids. I can just picture little ones finding someone else's name and helping each other complete their rainbows.
Rainbow Name Hunt from Toddler Approved
I hope these fun games have helped you plan out your St. Patrick's Day to include the most fun. These are all easy games that everyone will enjoy. Happy St. Patrick's Day to you and your family
Latest posts by Creative Housewives
(see all)