This post may contain affiliate links. If you purchase something through any link, we may receive a small commission at no extra charge to you. Supplies used may be given to us free of charge, all projects and opinions are my own.
15 Quick and Easy Meals for Busy Families
We are currently in what can only be referred to as our busiest season ever for our family. With 7 kids we're always busy but this spring has brought about a whole new level of busy-ness.
Currently we've got 2 girls dancing (4 days a week), 2 boys playing baseball (4-6 days a week), 1 boy playing lacrosse (6 days a week), and soccer and volleyball starting in the next couple weeks. Throw in scouts, activity days, young men's & young women's, homework and everything else for the next little bit we're going to be a bit busy. I wouldn't trade it for anything though. I love seeing them out there being active, doing something/learning something so much more than seeing them sitting in front of a screen of some sort.
What I don't love is what it has done to our dinner routine. As in, we don't have a dinner routine. Evenings keep us on our toes so I have been looking for meals I can make ahead of time that can be eaten at a variety of times throughout the evening. Of course that means that the slow cooker and I have gotten rather close again. I have found myself quite literally running to our family favorite recipes. I love recipes that can be either started early in the morning or started and finished in less than half an hour. So I'm either using my slow cooker or making masses of food I know reheats awesome.
I've rounded up 15 quick and easy meals that are my families favorite recipes. To make the cut they had to be:
A. easy
B. something the whole family likes
C. either something that could be made ahead of time
or something that makes plenty of leftovers that
warm up well.
As a family we absolutely love everything on this list. I hope it helps you out when you're running around crazy like I am!
Slow Cooker Chicken Fettuccine Alfredo
One Pan Complete Chicken Dinner
Crock Pot French Dip Sandwiches
Slow Cooker Broccoli and Cheese Soup
Tortellini Soup
Homemade Albondigas Soup
Creamy Chicken, Broccoli, Alfredo Casserole
Slow Cooker Beef Stew
Slow Cooker New England Clam Chowder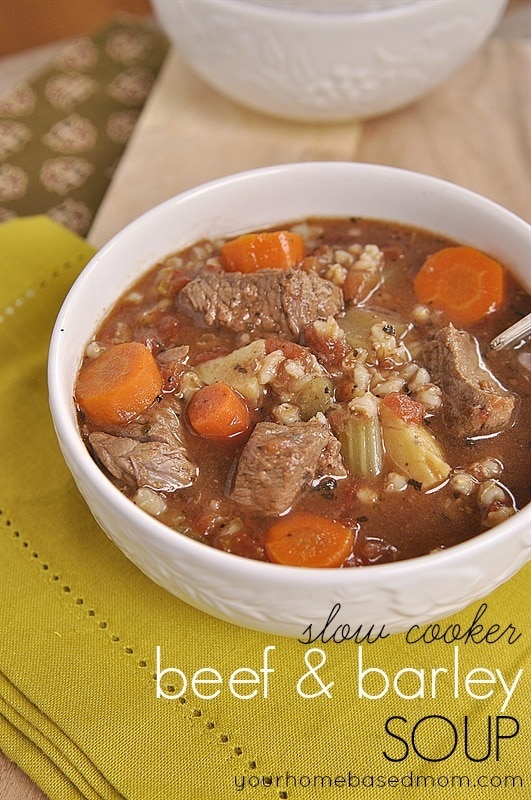 Slow Cooker Beef & Barley Soup
Latest posts by Creative Housewives
(see all)