This post may contain affiliate links. If you purchase something through any link, we may receive a small commission at no extra charge to you. Supplies used may be given to us free of charge, all projects and opinions are my own.
Who doesn't love a laid back but fun New Year's Eve Party? For the past while on the years we are home for the holiday season we've been getting together with friends and family for just that. We have a great time but keep the evening laid back and just all around fun. This year Nate and I are hosting and while I want to keep with our laid back and fun tradition I also really want to have some fun with hosting. While going through the blogs and of course pinterest it would be so very easy to get carried away (maybe next year!!) but I'm working on limited time (and a 10 year old with a newly broken wrist) so I'm having fun creating a "Dream Party" and am sharing some of the ideas with you!.
I think if you ask people "What is the most important part of a party?" the majority would say the food (of men I would guess all would say the food). We are food people, Nate and I both love to put out a nice selection of good food especially when we have company coming over.
Corn chips, doritos, salsa, guacamole, plain ruffles, and onion dip are party staples at our house. Look how adorable this idea from Carmael Potatoes to dress up your chips and dip is!
I love bite size/single serving foods, I think they're so cute and perfect for parties, no worries about double dipping or too much germ spreading. Many of the foods in this post are already individual sized or can easily be made that way. Make sure to click the links to check out each recipe!
We've done these individual veggie cups before, instead of having them put together like the image above we put ranch in the bottom of the small cups and put in a variety of veggies into each cup. Works wonderfully.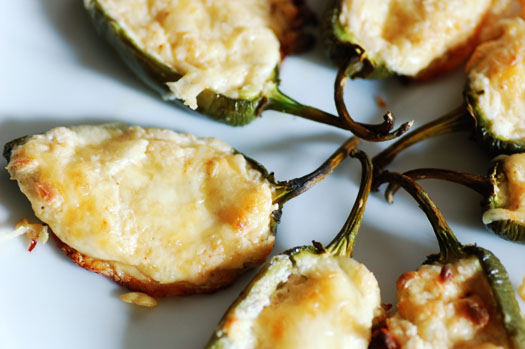 Baked Jalapeno Poppers

Avocado, Cream Cheese, & Salsa Stuffed Pastries
Loaded Baked Potato Rounds

Stuffed Cheesy Bread on Crack
I hope these recipes help you throw a deliciously successful New Year's Eve Party. I know a few will be on our table.

Latest posts by Creative Housewives
(see all)