This post may contain affiliate links. If you purchase something through any link, we may receive a small commission at no extra charge to you. Supplies used may be given to us free of charge, all projects and opinions are my own.
This Chicken Tortilla Soup recipe is without a doubt, a perfect meal for those busy weekdays when you might not have a lot of time to cook!

Chicken Tortilla Soup
The start of school year might be the hardest part of the year for our family. Surprisingly, it's not because my kids don't like school, because they really do! We just love the freedom of summer because we are able to spend a lot of time together as a family. Shopping at Walmart for all our groceries and setting up a weekly dinner plan gets us ready for the busy first weeks of school.
With the start of school comes fall sports, back to school nights, and getting back into the swing of homework. Having a dinner meal plan set makes our evenings go smoother because we aren't worrying last minute about what we're going to eat for dinner. Also, choosing some of our easy favorites helps ensure that everyone is happy. One of our favorite go-to meals in particular, is Slow Cooker Chicken Tortilla Soup. The recipe is super easy because you probably have most of the ingredients in your pantry already.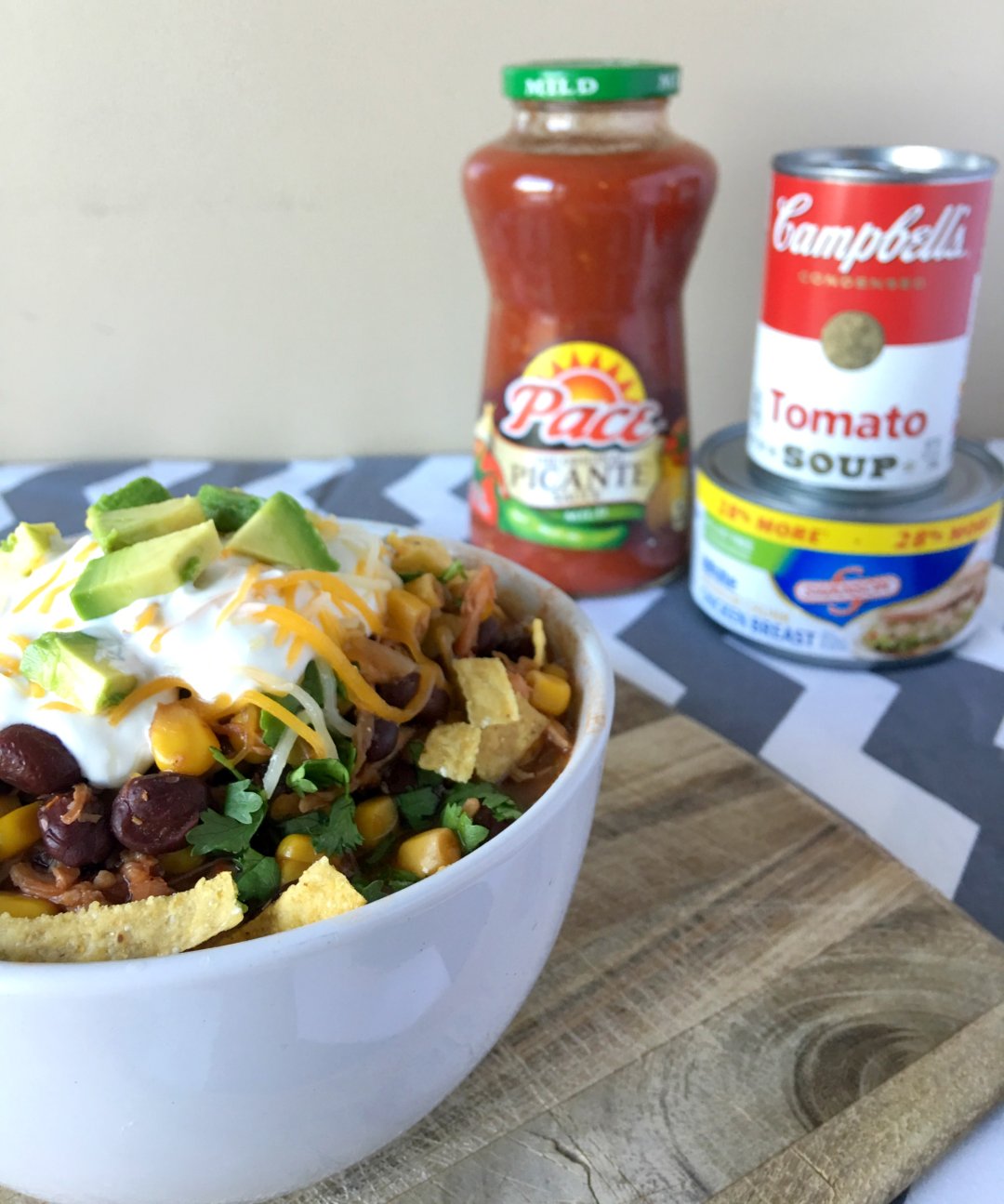 Slow Cooker Chicken Tortilla Soup
2 cups chicken broth
2 – 12.5 oz cans Swanson® Premium Chicken
1 can Campbell's® Condensed Tomato Soup
2 cans black beans, undrained
2 cups Pace® Picante Salsa
2 cups canned corn, drained
1 tsp salt
1/2 tsp pepper
1/8 tsp chili powder
1/8 tsp oregano
Tortilla strips
Directions:
Whisk together chicken broth, tomato soup, salt, pepper, chili powder, and oregano. Stir in chicken, black beans, salsa, and corn. Cook in slow cooker on low for 5-6 hours. Top with tortilla strips. Also, you can add other toppings such as cheese, sour cream, and avocado. In addition, if you are looking to up the heat, add a bit more chili powder and/or use a hot salsa. Combining the Pace® Salsa and Campbell's® Condensed Tomato Soup, undeniably gives the soup such a delicious and hearty flavor. The Pace® Salsa brings in an authentic southwest flavor, and the Campbell's® Condensed Tomato Soup give a homey, creamy texture that your family will love. I love using Swanson® Premium Chicken because it's pre-cooked keeps my prep time down!
So before the start of school gets the best of you, sit down with your family and pick out your favorite, easy meals to put into your first few weeks of school. Overall, it will take a little planning but it will make your evenings so much easier!
Love this recipe? Here are some more to try!
Crock Pot French Dip Sandwiches
Crock Pot Chicken and Wild Rice Soup